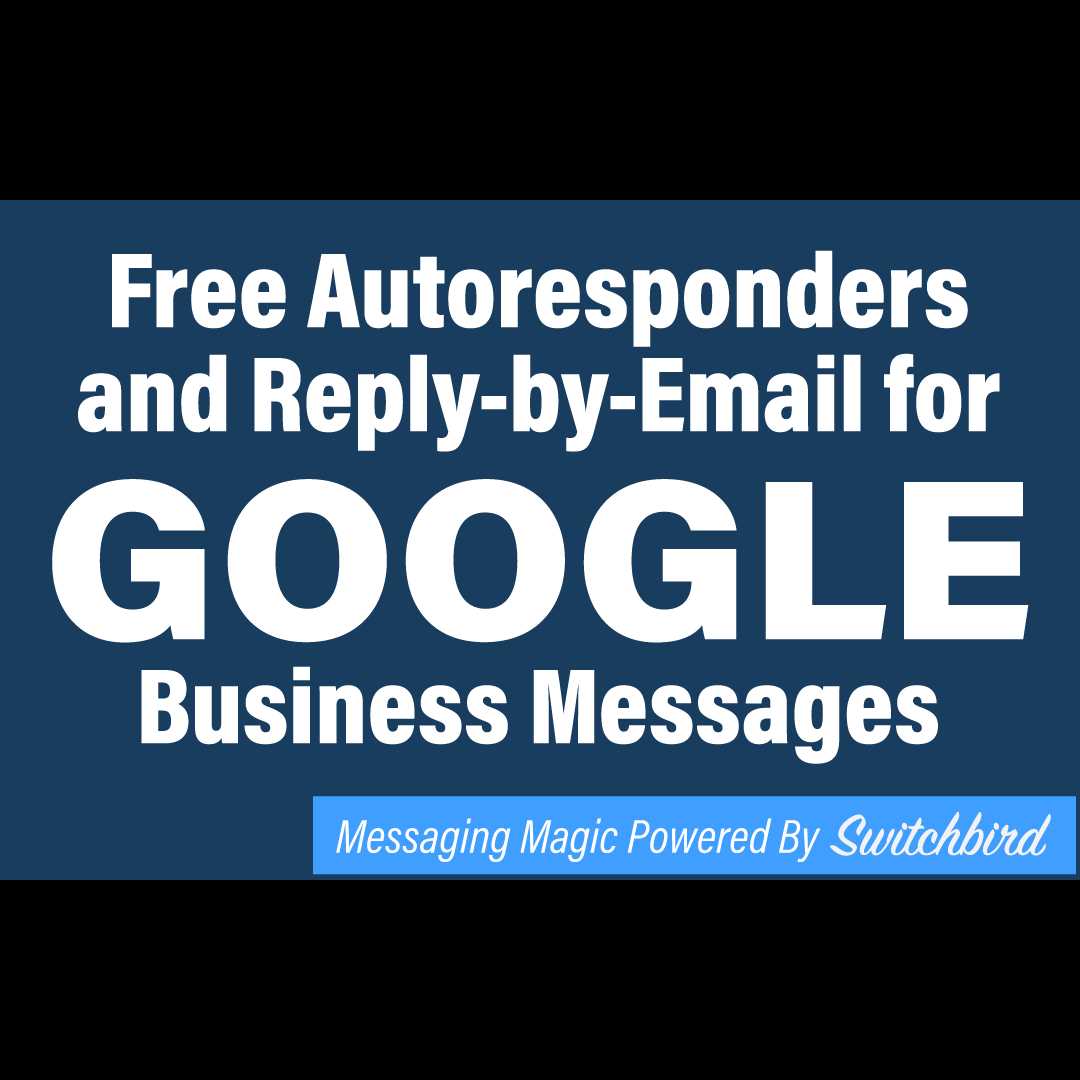 Are you a business owner or marketer who's reluctant to put money and manpower into Google's new messaging product, Business Messages (BM)?
I get that. But what if I told you that we can remove money and manpower from the equation? Then I think you might be interested to hear about two no-brainer use cases for Switchbird and Google BM.
Switchbird is now free for one business location on Google and lets you:
Automate BM responses with simple autoresponders or sophisticated messaging flows
Here's a quick walk-through I did showing you how to setup up a new account: Why You're Not Using Google Business Messages Yet
Business Messages (BM) is the feature of your Google Business Profile (GBP) that puts a "Chat" button right in the search results for your business (next to the "Call" button), allowing leads, prospects and customers to connect with businesses 24/7 through asynchronous messaging.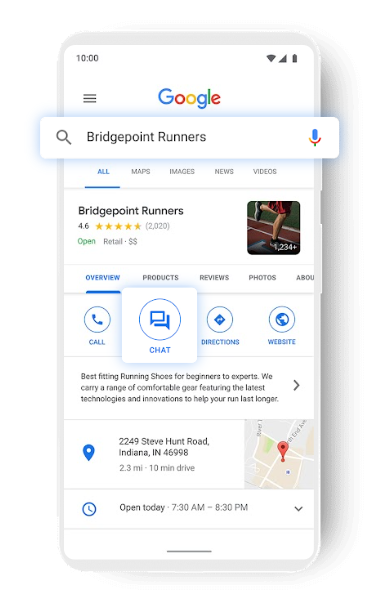 Most business owners appreciate the importance of their GBP in capturing inbound leads from search. And we'll readily concede the case for turning on Google Business Messages is strong.
But because Google is rolling out Business Messages slowly, the volume of leads, prospects and customers connecting with local businesses through BM is still low. As of this writing, the "Chat" call-to-action shows up predominantly on brand searches from Android phones and in the Google Maps app, not in desktop or iOS search results.
Therefore, the urgency to turn on Google Business Messages is somewhat muted. Few of us can allocate time, money and manpower to a new channel for just a trickle of leads.
Why Use a Google Business Messages Partner Solution?
If you want to gain easy competitive advantage in the search results for most markets and industries, turn on Business Messages for your GBP. Doing so immediately sets you apart for some searchers. A trickle, perhaps. But what happens when that trickle becomes a firehose?
You need to put systems in place to perform well in any messaging channel. For Google BM, there are specific metrics you need to meet to ensure an optimal customer experience and stay in the good graces of Google:
95%+ Merchant Response Rate (MRR), based on your business's response to the first message of new conversations–either a completely new contact or someone who's reaching back out after 7 days of inactivity–within 24 hours
95%+ Human Merchant Response Rate (HMRR), based on the participation of a human live agent at some point in every customer conversation
80%+ Customer Satisfaction Rate (CSAT), based on a survey that Google sends to users of BM (which you can trigger on-demand using Switchbird ;)
Realistically, busy business owners and their teams need two things to meet these performance goals: 1. a little bit of automation; and 2. an easy-to-use interface for messaging with customers.
How to Autoreply to Customers on Google Business Messages
Google openly encourages brands and business owners to use both automation and live agents to converse with customers via Google Business Messages.
Switchbird has been at the forefront of this work since our 2021 win in Google's first messaging automation contest. You can use our platform to create complex conversation logic and sophisticated messaging flows and funnels. You can also leverage AI to create an instant FAQ chatbot that learn from your company's Frequently Asked Questions page or CSV and surfaces answers automatically to customers who ask related questions.
But messaging automation can be even simpler than that. To engage your leads, prospects and customers immediately, set their expectations about follow-up, and maintain a 100% Merchant Response Rate (MRR) in Google's eyes, all you need is a simple autoresponder.
In Switchbird, that's a simple matter of crafting your message or messages, and dropping it into position.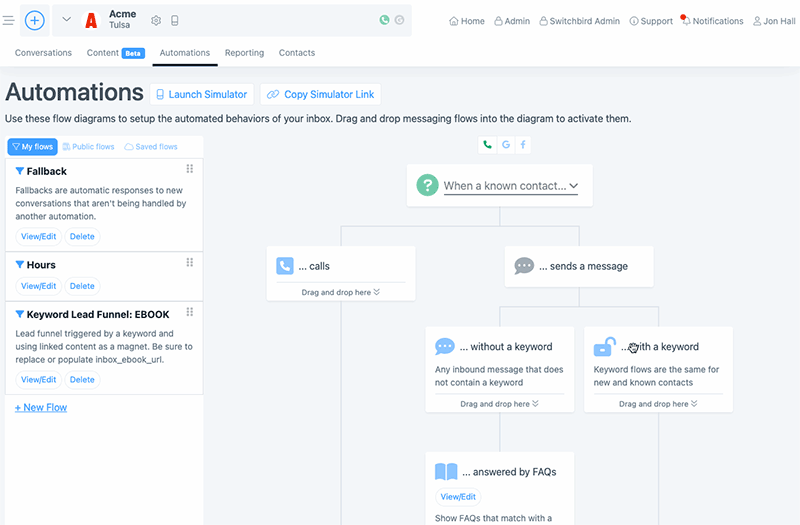 We can go much further, of course. For example, you can easily customize your Google BM welcome message with "conversation starters" to include links and clickable chips that kick-off keyword-based messaging flows. You're welcome to experiment with messaging automation on our automation playground or simply sign up to create your free inbox for Google Business Messages.
How to Reply on Google Business Messages via Simple Email
One objection I hear from business owners and their staff time and again is that they can't cope with YADA: "yet another damn app."
At Switchbird, we heard that objection loud and clear: So now Switchbird users can respond to any message that lands in their inbox by email–regardless of whether the conversation is in Google Business Messages, Facebook Messenger, Whatsapp or SMS.
Our email notifications include your received message in full (unless your inbox is in HIPAA mode) and your reply is routed back to whomever sent it in whichever channel they sent it in.
For business owners and marketers who worry about YADA and maintaining responsiveness on a new channel like Google Business Messages, we wanted to ensure that you don't even need to login to an app to address messages that require human attention. Reply-by-email is the simplest, easiest UI for an "app" you could imagine!
Free Tool for Google Business Messages
But don't take my word for it. We made our automated inbox free for one Google Business Profile to help business owners take adavantage of the opportunity with zero investment or overhead. Then those who wish to go beyond Google can upgrade anytime to add messaging channels, inboxes, locations and more.