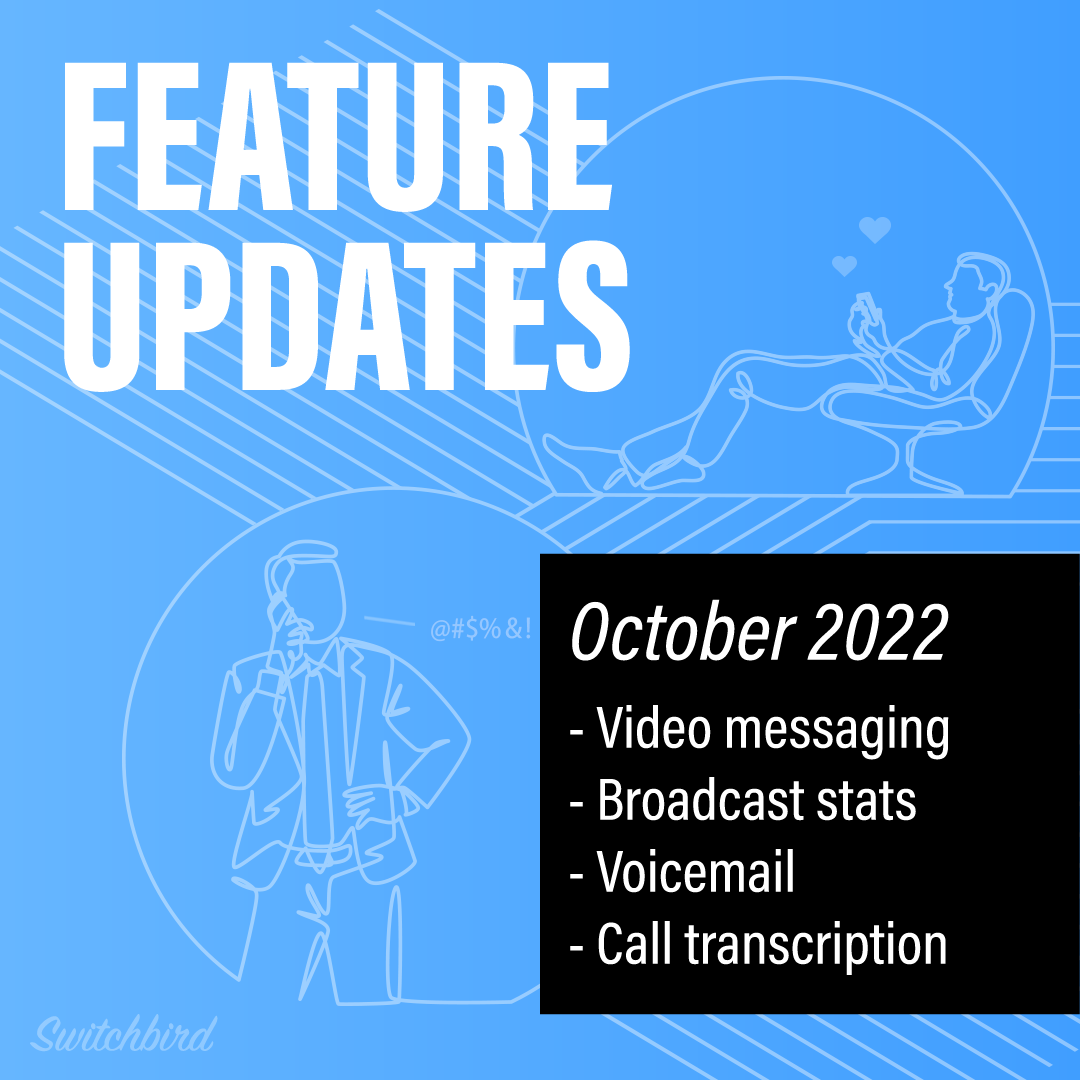 Here are just a few of the features we've added to Switchbird in recent weeks 😉
Video Messaging via Text. Did you ever share a lovingly recorded smartphone video via text only to have your recipient report receiving some postage stamp-sized, pixelated abomination?
Attaching video to plain-old SMS text messages is a fraught endeavor. While most carriers support a message type known as MMS (Multimedia Message Service) for this purpose, the reality is that bandwidth constraints brutally restrict what you can send.
Switchbird now solves for this inherent limitation of MMS with a new model for your rich media messages. Rather than crunch your video down into a pale shadow of its former self, we keep it full resolution and host it on our own media server. For your message, we create an eye-catching (and totally optional) thumbnail image with a play button. And we insert into your message a link to the video that opens in a mobile-friendly player.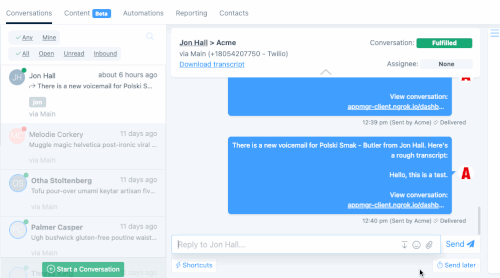 Now you have video messaging with the most ubiquitous messaging "app" in the world: SMS. And I really think it will change the game for those of you who want to use video to communicate, educate or sell to your audience via text. Combined with our well-loved per-message link-shortener and tracker and our evolving broadcast messaging analytics, we're already seeing powerful video messaging applications and campaigns by Switchbird users.
Broadcast Performance Stats. Speaking of broadcasts, you may have noticed that this type of message has earned a place in Switchbird's Content menu. Now your broadcast messages are treated like individual campaigns that can be scheduled, re-scheduled, edited up to the last minute before they're sent, and yes, reported on.
The current default reporting is simple. It tells you who sent the broadcast, when, and how many messages were sent, delivered or still pending. And it tells you your "click rate" (if the message has a link) and "response rate."
Here's an example of a broadcast I sent this summer to my slog audience with an early iteration of the video feature. Pretty neat, eh?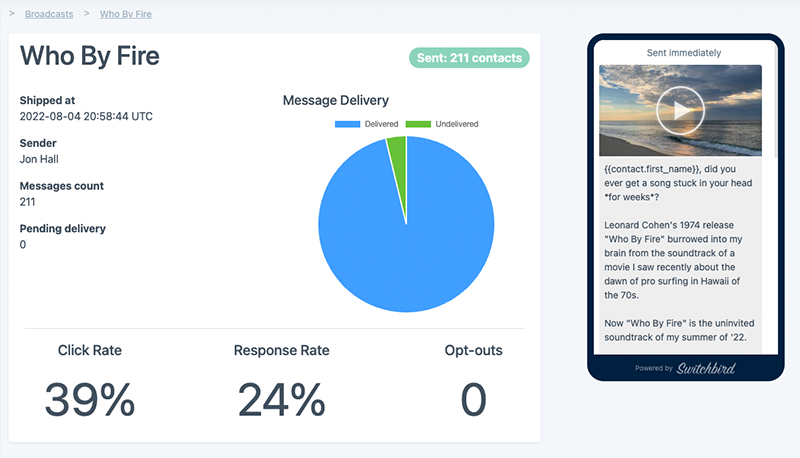 Voicemail. Let's face it. Many of us are barely using voice telephony in our businesses these days. We–and our customers–prefer text messaging, email, Zoom. Anything but picking up the phone.
Yet most of us stop short of unplugging our voice phone line. Why? Mostly because FOMO. Inbound calls are still an important vector through which to capture new leads and interest, even if we use Switchbird to deflect those calls to text conversations 😛
Enter Switchbird voicemail. Now if you don't want to miss out on voice calls but don't want to answer them either, you don't have to! We'll play for your callers a default voicemail prompt–or enter/upload your own custom prompt–and allow them to leave a message. We capture the recording right in your inbox thread with that contact. And just like Google Voice, we transcribe the voice message and send you a notification with its contents!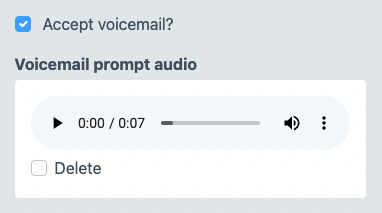 Call and Voicemail Transcription Oh, did I say "transcribe"? That's right, at Switchbird we're now automatically transcribing your voice calls and voicemails right in your inbox Conversations. Just click Expand on any call to read the transcription.
Our goal here to help you more quickly and easily review and respond to your contacts. We've been able to keep this service "in-house," meaning that: A) we can maintain tight security on the data and continue to ensure compliance with HIPAA and other privacy regulations; and B) we can do so for no additional cost.
Important: New A2P10DLC Registration Protocol Finally, Twilio and The Campaign Registry (or TCR, the authority overseeing A2P10DLC) have deprecated "Starter" brand registrations and will no longer honor them effective November 22, 2022. If you registered a Starter brand but have a Tax ID/EIN, you should now re-register your A2P10DLC brand as a "Standard" brand under Inbox Settings > Numbers. This is an evolving situation: our apologies, we take direction from the authorities on this one!
---
Well, that does it for now. As always, please feel free to send your rants, raves, questions, concerns to me and I'll do what I can!