Superhuman Tools for
Omni-channel

Messaging

Unified

Business Comms

Text/SMS

Marketing

Chatbot

Deployment

Google

Business Messages

Video

Messaging

Facebook

Messenger

Booking

Appointments

Collecting

Payments

Reviews

and Testimonials
Switchbird consolidates phone, text, webchat, Google, Facebook and more into one inbox. Automatically engage every contact. Reply by email or text—no login required.
"We use Switchbird with clients ranging from an auto repair shop who exchanges photos and coordinate services with customers via text, to a chain of PT clinics who require a HIPAA-compliant solution for booking appointments and sending text reminders. It could not be easier to use."
"Ten attendees called my Switchbird number within 90 minutes of the presentation's completion. It was the immediacy and convenience of the moment that motivated the audience to act. With 10 qualified prospects and a 75% close rate, Switchbird gave Caliber the instant funnel and leads for new business that no other platform could come close to matching."
"Switchbird is a 9 out of 10 for me. They've cracked the code when it comes to software that helps you convert leads into prospects into appointments via text. Their hybrid use of AI automation and human intervention dramatically boosts efficiency without alienating customers like all the chatbots on the market."
"It went incredibly well. My conclusion is that Switchbird captures the attendees enthusiasm in the moment. I'm also using your app to make it simpler for the members of a networking group I chair to let me know they'll be late or a no-shows for a meeting with success. I'm telling everyone I know who has a need similar to mine to take a look at Switchbird."
"The automation sequences are a dream. Our first go-around with this was far more successful than we had anticipated. We put a campaign out to customers (34 to be exact) and had a 97% completion rate. We used the templates and customized them to our exact needs. Awesome."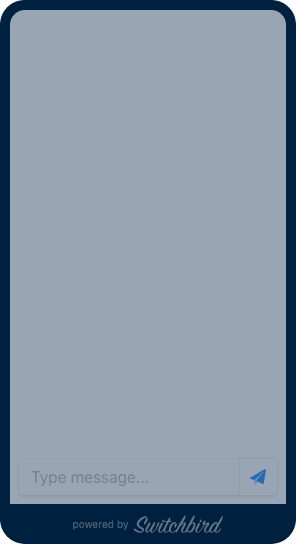 Two-way Business Messaging With Smart Automation
Missed-call text back

Drip campaign sequences

After-hours rules

Web widget

Unlimited contacts

Video & audio messages

Calendar bookings
Automated funnels

Shortcut saved replies

FAQ bot

Shared inbox

Scheduled messages

Broadcast messaging

Appointment reminders
Text Messaging/SMS
Flexible. Secure. Future-Proof.
The solution you would've built yourself:
Transparent pricing

Verified A2P 10DLC

List segmentation

User access control

CallRail+ integrations

API & webhooks
Text-enable landlines

Unlimited numbers

Keyword campaigns

Call recording/notes

BYO Twilio account

HIPAA options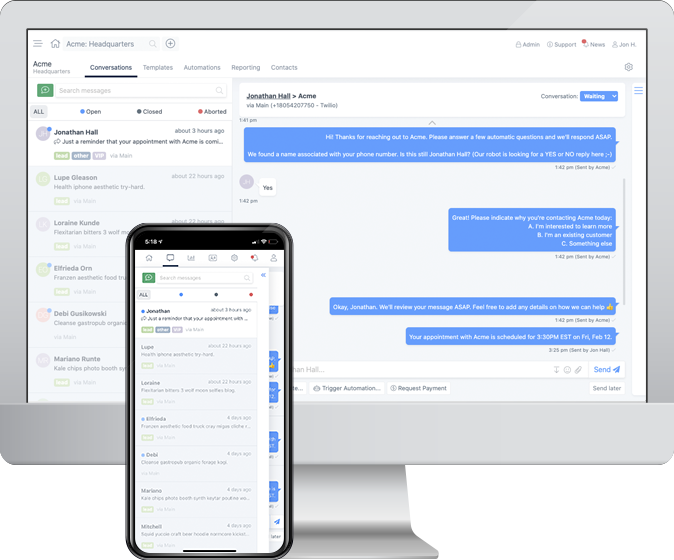 Google Business Messages
Put the "Chat" button on your Google Business Profile...
Convert More Website Visitors
Finally a "chat" widget that doesn't need to be staffed:
Stop wasting time on abandoned chats; we mimic the "micro-commitment" of chat to increase conversions and capture a phone number first

Add our widget to your website in seconds and customize with your colors, team headshots, messaging, etc.

Track performance by URL; even deploy custom versions of the widget to different pages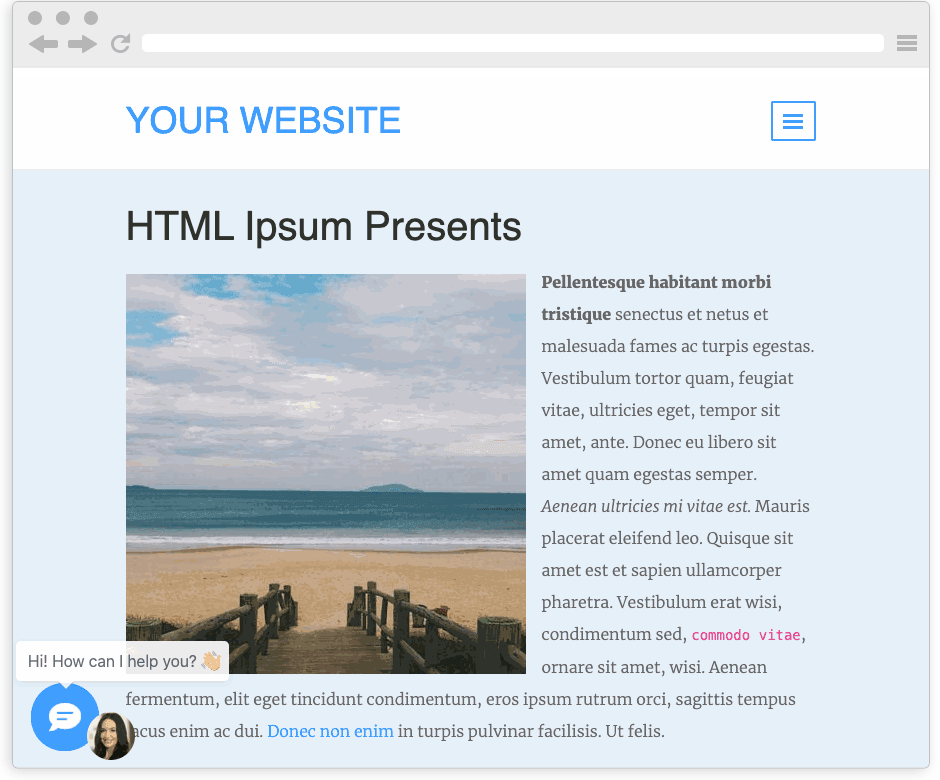 Connect your website, call-tracking numbers and CRM. Or replace them altogether.
Every Feature You'll Ever Need
Switchbird makes 2-way messaging with leads and customers automatic, efficient and effective.
Get More Value From Every Call
Capture lead data and a text messaging opt-in from your missed, abandoned and after-hours calls.
Forget Web Chat, This Actually Works
Add our widget to your website and drive visitors into a text conversation with your business, a much more valuable and durable connection than online chat.
Setup in Seconds with Call-Tracking
Connect Switchbird to CallRail or CallTrackingMetrics to add our functionality to existing tracking numbers—no need to change, provision or port numbers.
Respond Faster with Templates
Use templates to craft reusable messages that are consistent, personalized (with dynamic placeholders), and effective.
Book Appointments with Auto-Reminders
Scheduling an appointment automatically sends your contact a calendar invite and automatic reminders 24 hours and 1 hour before, eliminating no-shows.
Easy TCPA compliance
Set opt-in rules to be as strict as you want. You'll see clear indicators of every contact's opt-in status with options to manage that status.
Request and Collect Payments via Text
Send a payment request right from the dashboard. When the customer pays, both parties are notified and the money flows into your bank account.
Private-Label and Turn-Key
We've put a simple, beautiful front-end on a sophisticated product. Customize it to the needs of your clients or team.
Convert Calls to Text Conversations
Spend less time on the phone and playing phone tag. Automatically engage voice callers in text conversations that can be shared with your team 24/7.
Build a Compliant Contact List on Autopilot
Turn every call, text or website visit into an opted-in contact you can re-market and sell to.
Shared Inbox, Shared Data, Shared Joy
A single dashboard for customer messaging and reporting lets management, sales and service teams own their part.
Do More With Automations
Use built-in or customized conversation logic to qualify inbound leads via text, collect surveys via text, request referrals via text, and more.
Make Calls From the Dashboard
Users of your inbox can call contacts through your Switchbird number—no more giving out personal phone numbers.
Send Personalized Mass Texts
Broadcast campaigns to hyper-targeted customer segments and personalize them with merge fields.
Manage One Inbox... or 1000
Switchbird is designed to let marketers and agencies deliver a powerful text messaging platform to the organizations they serve.
Secure and Privacy-Minded
End-to-end encryption and other security features ensure that your customer data is never at risk. We can even support HIPAA-compliance.
"Without Switchbird, you might as well be forwarding leads to your competitors 😮"
Can Customers Text You? Here's What You're Missing
5B
consumers use text messaging
85%
prefer text to email/voice
98%
of text messages seen
3-5x
lower cost-of-sales possible
For small business teams
Business
Google integration

Calendar integration

Live onboarding

Custom messaging funnels

Custom messaging sequences

Unlimited contacts

Unlimited phone numbers

Unlimited keyword campaigns

Unlimited broadcasts

Unlimited payments

A2P 10DLC registration

Call-tracking integrations

API access

Zapier integration

Private-label

BYO Twilio account(s)

Custom development

Login with Google

CRM integrations

Single sign-on
Volume Plans Designed for Multi-location Brands, Agencies and Resellers
For startups and boutiques
Starter
Minimum seats5

Google integration

Calendar integration

Live onboarding

Custom messaging funnels

Custom messaging sequences

Unlimited contacts

Unlimited phone numbers

Unlimited keyword campaigns

Unlimited broadcasts

Unlimited payments

A2P 10DLC registration

Call-tracking integrations

API access

Zapier integration

Private-label

BYO Twilio account(s)

Custom development

Login with Google

CRM integrations

Single sign-on
For agencies and franchisors
Growth
Minimum seats10

Google integration

Calendar integration

Live onboarding

Custom messaging funnels

Custom messaging sequences

Unlimited contacts

Unlimited phone numbers

Unlimited keyword campaigns

Unlimited broadcasts

Unlimited payments

A2P 10DLC registration

Call-tracking integrations

API access
Zapier integration
Private-label ($500 setup)

BYO Twilio account(s)

Custom development

Login with Google

CRM integrations

Single sign-on
For more complex needs
Scale
Minimum seats100

Google integration

Calendar integration

Live onboarding

Custom messaging funnels

Custom messaging sequences

Unlimited contacts

Unlimited phone numbers

Unlimited keyword campaigns

Unlimited broadcasts

Unlimited payments

A2P 10DLC registration

Call-tracking integrations

API access

Zapier integration

Private-label ($500 setup)
BYO Twilio account(s)
Custom development (available)
Login with Google (available)
CRM integrations (available)
Single sign-on (available)