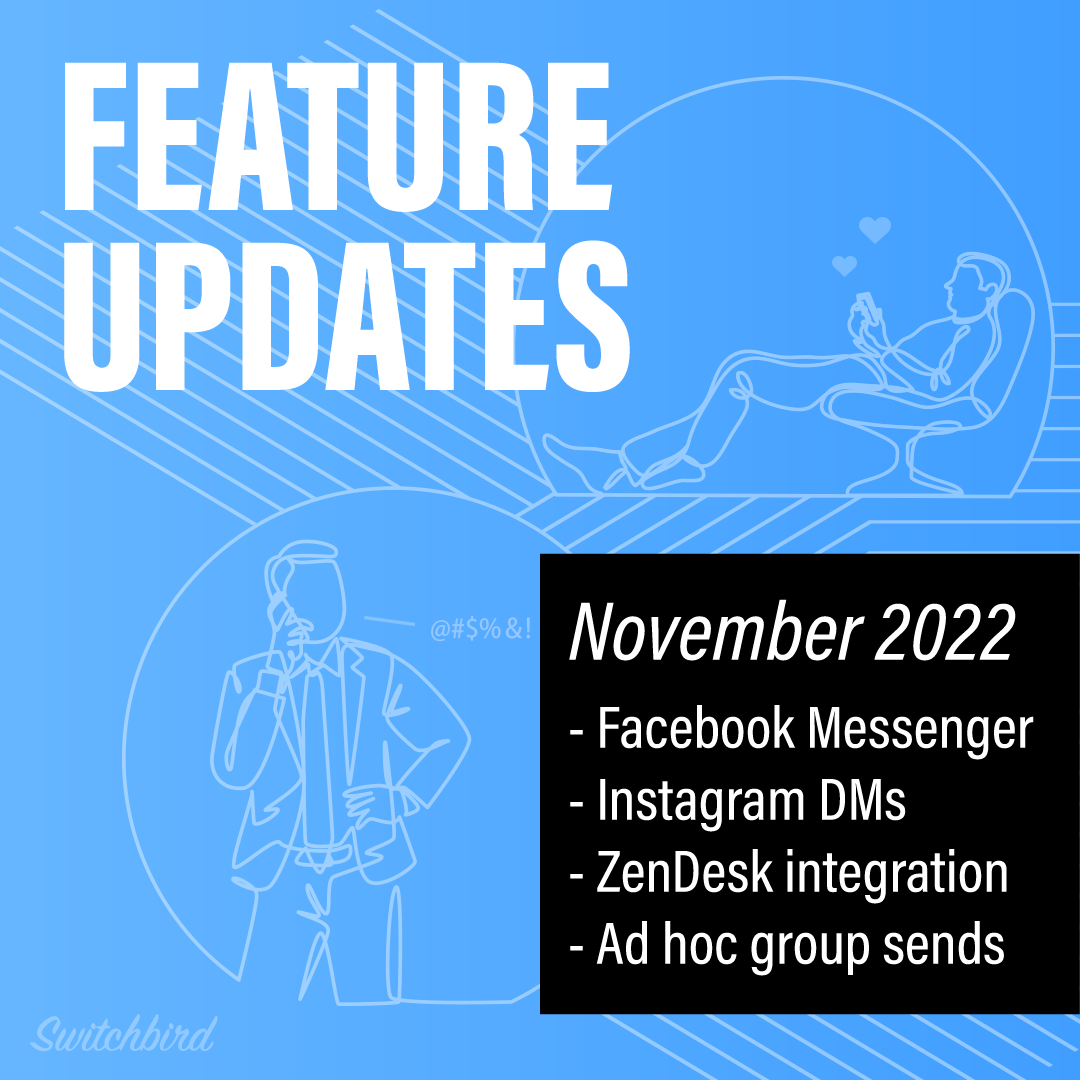 Here's what's new in Switchbird this month.
Facebook Messenger and Instagram DMs. The logjam at Facebook support has finally broken, and our app sailed through App Review and is now approved. (Note: The app's generic name is simply "Message Manager" and allows us to maintain a single approved integration across Switchbird and all our private-label partners.)
What does this mean for you? It means you can now connect your Facebook business page and/or Instagram business account to your Switchbird inbox–and your clients' FB pages and IG accounts to their inboxes 😉
In a few clicks, all of the saved replies, messaging sequences and automated behaviors and flows you've setup on an inbox can be applied to new conversations in Facebook Messenger and/or Instagram DMs.
To get started, head over to Inbox Settings (gear icon) > Integrations and click "Connect" on Facebook Messenger. Or for a shortcut, click the round Facebook "f" icon at the top of any inbox. Then click to select or Connect a Facebook Account, add the FB pages and IG accounts you want to authorize, and select a single page to use with the inbox. If it has an associated IG account you've authorized, that account will be connected as well. Voila! Now new messages from these channels will flow to your inbox.
Updated Video Player. We continue to improve our video messaging capabilites and now serve your video messages in a player that is lightweight and effective. (For you private-labelers, it is also branded with your logo so you get some exposure when you and your clients use it :)
I've been experimenting with video messaging on the platform myself and have been wowed by the results. The new player preserves the aspect ratio of the original video, supporting personal "face time" messages to your customers and contacts–at scale.
I sent a few selfie videos from the beach and my backyard to followers of my "slog" (or SMS blog or vlog or whatever, haha). Checking the stats on one sent to about 100 people, I see that 50% clicked to watch it! That, my friends, is engagement.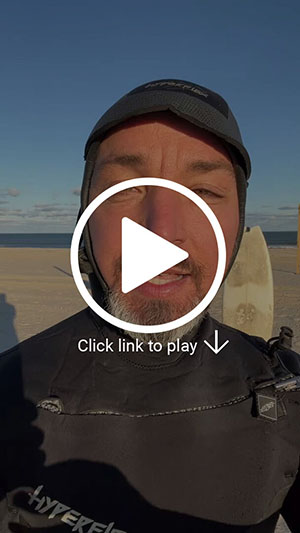 New Catch-all Auto-responder. Sometimes you just need to cover your a$$, amirite? Well, that was the thinking behind a small addition to the flow diagram under Automations. If you want to ensure that someone who texts after-hours gets an appropriate reminder that no human response is imminent, find this setting under When any contact… sends an unhandled message after-hours.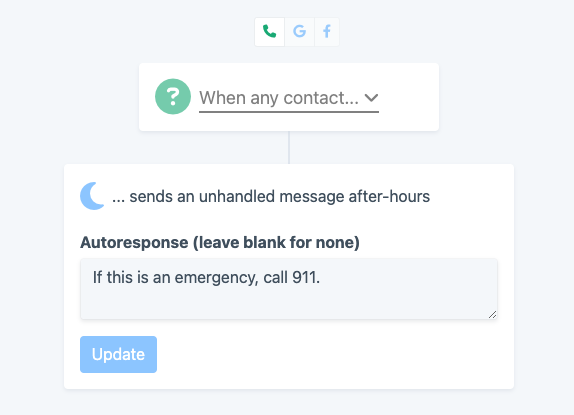 Ad hoc Group Sends. If you need to occasionally send a broadcast to a group of people who aren't labeled already in your contact list, we just made it a lot easier. Now when composing your broadcast you can simply choose Individual contacts under Choose a segment and then search and select just those specific contacts to receive your broadcast. Boom 💥
ZenDesk Integration. We continue to work with some customers on a fun integration: routing ZenDesk emails through Switchbird to make your helpdesk operate smoothly across channels, including email, SMS, Google Business Messages and now Facebook and Instagram. Let us know if you're a ZenDesk user in need of easy, omni-channel magic!
IMPORTANT: Register Now for A2P10DLC or Face Filtering, Carrier Fees. I've been encouraging North American Switchbird customers who use local numbers for business texting to register for A2P10DLC since 2021. Thanks to telecom carriers being telecom carriers, the rules keep changing. We're still waiting for Twilio to provide an option for businesses who don't have a Tax ID/EIN (e.g. sole proprietorships).
But if you have a Tax ID/EIN and you have not yet done so, you really should now register your business as a "Standard" A2P10DLC brand under Inbox Settings > Numbers. For a "Low-Volume Mixed" use case (what yours likely is), the cost is minimal–see details in-app. And carriers continue to ratchet up message filtering and will soon start to apply new per-message fees on unregistered traffic. Please register your accounts by December 15, 2022 to avoid these unpleasantries. If you have questions or need assistance, let us know!
---
We've got plenty more in the hopper, but let me stop here. As always, please feel free to send your rants, raves, questions, concerns to me and I'll do what I can!