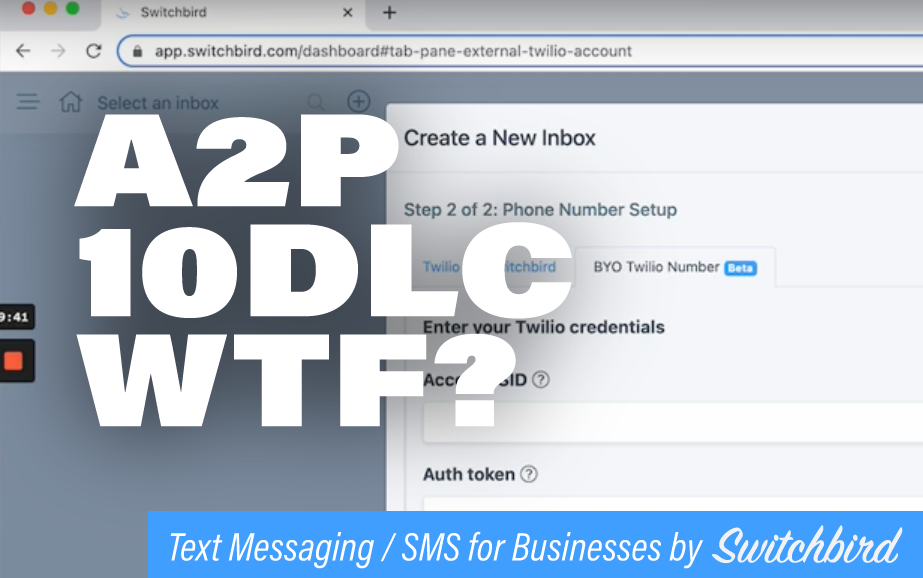 I'm always surprised how many business owners are afraid to embrace business text messaging at a company level. And so they neglect to set their employees up with text-enabled phone lines or devices, let alone any system to encourage and manage conversations with customers via text at scale.
They fear texting is "too intrusive."
They fear their business "can't support" another communication channel.
They fear the legalities and consequences of "doing it wrong".
But 2021 marks a turning point in the industry that every business should be paying attention to.
U.S. telephone carriers have officially embraced business texting over local U.S. numbers and provided a pathway for legitimate businesses who use text messaging to register themselves, make their business and use case known to carriers, and have their messages greenlit to receive higher throughput and better deliverability.
Here's what you need to know:
WTF is A2P 10DLC?
You'd be hard-pressed to find a more obtuse piece of industry jargon than the term used by U.S. telephone carriers to describe this new program for sanctioned business texting: A2P 10DLC.
A2P 10DLC is an acronym short for "application-to-person" (A2P) messaging on "10-digit long codes" (10DLC), or U.S. local numbers. Obviously.
Let's break it down. What is application-to-person messaging? While the term explicitly refers to messages sent from a software application to individual consumer devices, such as a broadcast alert or marketing campaign, all business-to-consumer messaging essentially falls into this category these days.
Any SMS/MMS activity on a Twilio phone number, for example, is categorized as A2P even if the nature of the conversation itself is more P2P ("person-to-person") as many business-related conversations are. Using any kind of shared SMS inbox like Switchbird–even if you never send a bulk or automated message–is still considered A2P. Essentially, all business text messaging is considered A2P by carriers.
Now, what are 10-digit long codes? Local mobile and landline numbers in the U.S. consist of a 3-digit area code, 3-digit exchange, and 4-digit subscriber number. Historically, these 10-digit numbers (called long codes) were intened for P2P traffic, such as messages between friends and family.
For A2P messages or business text messaging, companies were expected to use 5- or 6-digit "short codes" (like the Red Cross's 90999) intended for bulk texts, or possibly toll-free numbers.
In practice, however, many businesses do use local numbers to talk and text with customers. The introduction of A2P 10DLC registration is the industry's response to this phenomenon, ensuring that legitimate businesses can continue to use this channel with high throughput and that it remains a channel customers can trust, free of spam and unsolicited communications.
The Opportunity for Businesses in A2P 10DLC
The advantages of using local phone numbers for business texting are clear when you start to evaluate the primary opportunity in embracing text messaging as a channel for business use.
Hint: It's not in sending large, impersonal marketing blasts to as many consumer phone numbers as you can get your hands on.
Instead, the big opportunity in business text messaging now is to capture and nurture more customer conversations with 2-way messaging. Not only is texting the preferred medium of younger consumers, it has extremely high open and engagement rates across generations and is near-universal. Consumers increasingly expect the businesses they transact with to be convenient, easy to do business with and available via text.
The companies who rise to this occasion are eating the competition's lunch. It's clear, though, that to operationalize business texting, companies do well to look beyond short codes and toll-free numbers and make texting with leads, prospects and customers a primary means of communication alongside employee phones and email addresses.
The new rules of engagement for A2P 10DLC mean that:
Businesses can reach and be reached by customers via text at a recognizable area code.
Local "long code" numbers allow businesses manage voice and text activity together, for example by using Switchbird to text back voice callers after-hours or when a call is missed.
On local numbers, business texting resembles P2P texting, which is from where the power of the medium–like the high open and engagement rates–really derives.
Businesses can spread texting activity over individual local numbers to empower employees or departments to leverage the medium against their goals.
Businesses can use multiple local numbers for call- and text-tracking when driving new conversations from marketing channels they want to measure.
Local numbers are far less expensive to maintain and use than short codes or toll-free numbers.
Local numbers offer far greater flexibility and inventory for vanity numbers and the like.
How to Register for A2P 10DLC
Carriers have together adopted a set of standards and registration processes for 10DLC numbers to better understand who is using local phone numbers for application-to-person messaging and what they're sending across the network.
Businesses who use this channel must register with carriers. In a nutshell:
Who should register for A2P 10DLC? – Every business that sends text messages over a local phone number. (Note: If you use Twilio for texting, you should register.)
What do you need to do to register for A2P 10DLC? – Provide carriers with basic information about who you are and the messages you send.
Why should you register for A2P 10DLC? – Business text messaging over local numbers is now explicitly sanctioned by carriers. Registering means your messages will see better deliverability.
How do you register for A2P 10DLC? – Switchbird lets you register with a simple form and a few clicks. You can even register your existing Twilio numbers this way.
Switchbird makes it super simple to provide the required information to carriers and get your brand and use cases approved, often instantaneously. See the video walk-through of registering a brand for A2P 10DLC on Switchbird. An A2P 10DLC "brand" will fall into one of two categories: "Starter" or "Standard".
If a business sends fewer than 3000 text messages per day and uses fewer than 6 local phone numbers to text, they can register as a "Starter" brand. There is currently no cost for registration nor any ongoing fees for Starter mixed-use messaging.
If your business sends 3000 or more text messages per day or uses 6 or more phone numbers to text, they should register as a "Standard" brand. There is currently a $44 one-time registration fee for Standard brands, as well as $2-10/month campaign fees for each registered "use case" (marketing, reminders, customer care, etc.).
Starter brands establish basic trust with carriers by providing minimal information, such as contact details and a physical address (no P.O. boxes!). In exchange they receive better deliverability and higher throughput (i.e. more delivered per second) of their messages compared with unregistered senders.
The lift for Standard brands is a bit greater and includes submission of a business Tax ID and other identifying information for a longer review by carriers–typically 24-48 hours. A Standard brand receives a trust score from carriers that corresponds to significantly increased throughput of the brand's message traffic along carrier A2P routes. Of course, unless your business is sending enough volume to warrant registering as a Standard brand in the first place, you likely don't need the extra throughput (or expense) of Standard brand registration.
Conclusion
Now is the time for businesses in the U.S. and Canada to fully embrace 2-way texting with leads, prospects and customers. The upside comes in the form of:
Meeting the demand: Consumers prefer text and will choose competitors who are easy to do business with
Growing revenue: Plug the leaks in your sales funnel by capturing, nurturing and re-marketing via text
Building a business asset: Build direct relationships with customers via text, a channel not owned by Big Tech
Attaining greater efficiency: Text conversations can be automated, handled 24/7 and shared across teams
Carriers have sanctioned the most affordable–and arguably the most powerful–approach to using text messaging as a business channel: mirroring P2P messaging over local numbers, or 10-digit "long codes," for 2-way conversations that support marketing, sales, customer care, conversational commerce and other applications.
The industry has moved from nebulous rules and a "Wild West" of business messaging practices–with occasional blow-back from consumers and legislators–to a more ordered and transparent process for all participating concerns. Registering for A2P 10DLC through Switchbird is your first step toward leveraging the mature and powerful channel of text messaging to benefit your customers and your business alike.