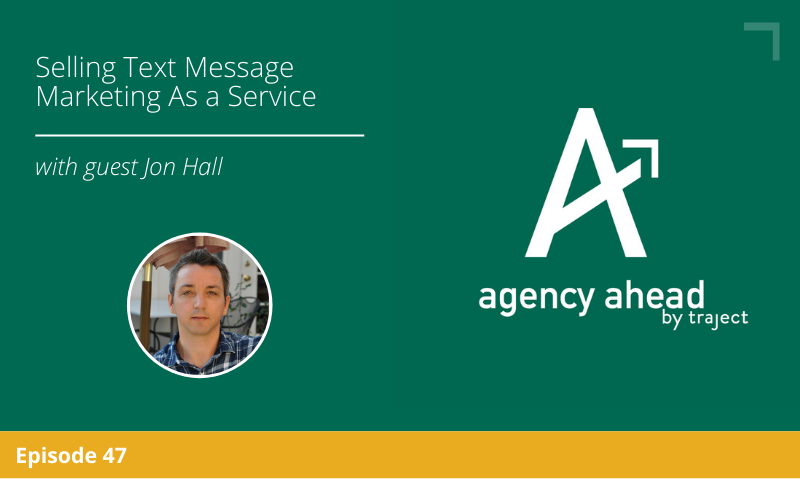 As founder of Switchbird and former founder of Grade.us, I recently appeared on the Agency Ahead podcast to discuss the future of business messaging and how agencies can help their clients own it.
You can listen to the full episode on iTunes, Google or Spotify. Below are my own show notes—not a word-for-word transcription (which you can get from the link above), but a summary of the questions and topics.
Local SEO in the 2020s: Google My Business and Google Messaging
One of the biggest local SEO topics for the foreseeable future is going to remain optimizing your Google My Business (GMB) listing as Google continues to stuff features in there that cannibalize the features of most small business websites.
We've all seen the trend: less than half of searches now result in a click. Google users are staying on Google. This is the new normal.
The SEO community helps this trend along with mantras like "GMB is the new homepage". But I can't criticize that approach–it is totally pragmatic and if you work with local business clients, that's the approach that's going to drive results.
But optimizing GMB listings means completing the business description, adding photos, making posts, asking and answering our own Google Q&As, generating Google reviews, generating reviews on sites that are included in "Reviews from Around the Web." And once you do all that, there really is no reason for a potential customer to visit your website anymore. We've got all the info we need from your GMB listing.
There are pros and cons to this trend for business owners, but Google's experiments around monetizing GMB might be concerning for some. And the broader rollout of Google Messaging this year suggests the battle is heating up between Facebook and Google to own business messaging.
These are the developments that spurred Switchbird into existence: We want businesses to own their customer comversations. Which they can only do if they drive those conversations via a messaging platform not owned by big tech monoliths: text messaging.
What Do Businesses Get Wrong About Text Messaging/Text Marketing?
Many of us have been sold on the power of text by comparing it to other marketing channels. Near 100% of text messages are opened or seen. 90% of messages are read within 3 minutes of receipt. And, depending on the study, something like 60-80% consumers want to receive text messages from brands and businesses.
As marketers, we think, "Great! Text is a powerful channel. Let's use it."
But in order for that power not to quickly erode, the messages you send have to be personal and relevant to the individual receiving the message. And you have to be available at the other end of the line. On email and social media platforms, you can get away with blasting out stuff that may or may not be relevant to every member of your audience. But if you do that in text messages, you're going to be seen as noise. Or worse, you're going to piss people off.
How Do You Do Business Texting Right?
Good messaging is useful, timely, infrequent, personal and transactional. Rather than blanketing your audience with marketing messages, texting should almost always be focused on an individual or segment of your list.
One of the most powerful applications is creating repeatable success in the sales funnel through lead nurture.
With text, you can systematize your lead nurture campaigns, tee up your best material no matter who in your organization is sending the messages. If you design a nurture campaign or sales script for your business or your clients, and you know that it will help move that lead from contact to sale, you can build that out in Switchbird, make it available to your clients or staff, and reuse it to create repeatable sales success.
Remember that text is direct and immediate, but it doesn't have to be limited to 140 characters: it's the portal through which you can send your highest-impact, even high-bandwidth material. If you're in home remodeling and have a video that explains your service clearly and succinctly, shows some recent jobs with a visual demonstration, shows your company to be friendly and personable, shows you run a clean job site—you can't explain all that in text or on the phone. Nor do you want to be on the phone giving a prospect directions to find the video on the Web—even hot prospect may not get there. But if you're setup to text that video right to them, they're almost certain to watch it.
Then, beyond lead nurture, Switchbird empowers businesses to explore lots of use cases for reusable messaging: to re-market to or capture more value from existing customers, generate referrals or reviews, gather survey data, etc.
What Should Marketing Agencies Look For In Their SaaS Vendors?
I think you want to be choosy. Having worked on both sides of these relationships, here's what I'd look for as an agency choosing vendors:
Agency-friendly
Look for signs that the SaaS companies you choose are truly "agency-friendly," meaning they're not only offering agency pricing, white-labeling and all that stuff, but also that they're not positioned to steal your clients from you. We learned this early at Grade.us because for a long time we didn't know we were an agency software. And that created what they call "channel conflict"—where we had an offering for individual businesses that could inadvertently undercut what agencies were charging for the service. We had to rectify our pricing to stay agency-friendly.
Best-in-class
Another feature of a good SaaS partner for agencies is they should be limited in scope. As an agency you grow by adding new clients but also by capturing more share of wallet of existing clients when you add new services. Ideally, you're choosing best-in-class products for each of those services and not locking yourself into one vendor who may or may not perform, may or may not keep up with the times, or may take another direction. I'll give you an example: call-tracking. At Switchbird, so far we integrate two very good, very mature call-tracking softwares, CallRail and CallTrackingMetrics. Now both of these providers dabble in text messaging, but their solutions are, er, lacking.
So we set things up so that you can plugin your CallRail numbers to Switchbird texting and have text conversations shifted to your Twilio numbers with us.
Right-sized
The final quality that makes SaaS vendors a good fit for agencies is the size: smaller companies are more nimble and often easier to do business with, provided they have adequate resources. Venture-backed companies can seem impressive on the surface, but agencies expecially should beware: these companies have a mandate to grow, focus on sales and profit, and produce a return quickly. If you're building your business around their tools and pricing today, expect them to change!
When Should Agencies White-Label Software?
A common reason for any agency to white-label tools is to get credit where credit is due: sourcing and implementing complex tools from everything that's available and setting clients up for success is itself a huge undertaking. White-labeling those tools is a way for agencies to take credit for that work and reinforce their clients' perception of value.
There are also more specific reasons to white-label:
when you're leading sales pitches with the product. You probably don't want to go into a pitch with something that isn't thoroughly branded your own.
when your agency has a vertical focus. If you target a specific niche and are comporting a general-purpose solution to serve that niche, it's going to likely be more compelling for clients if the branding of the tool reinforces that focus.
Conclusion
These are just a few notes from my appearance on the Agency Ahead podcast on the future of business messaging and how agencies can help their clients own it. For what it's worth ;) Get in touch if I can help your agency navigate this opportunity.