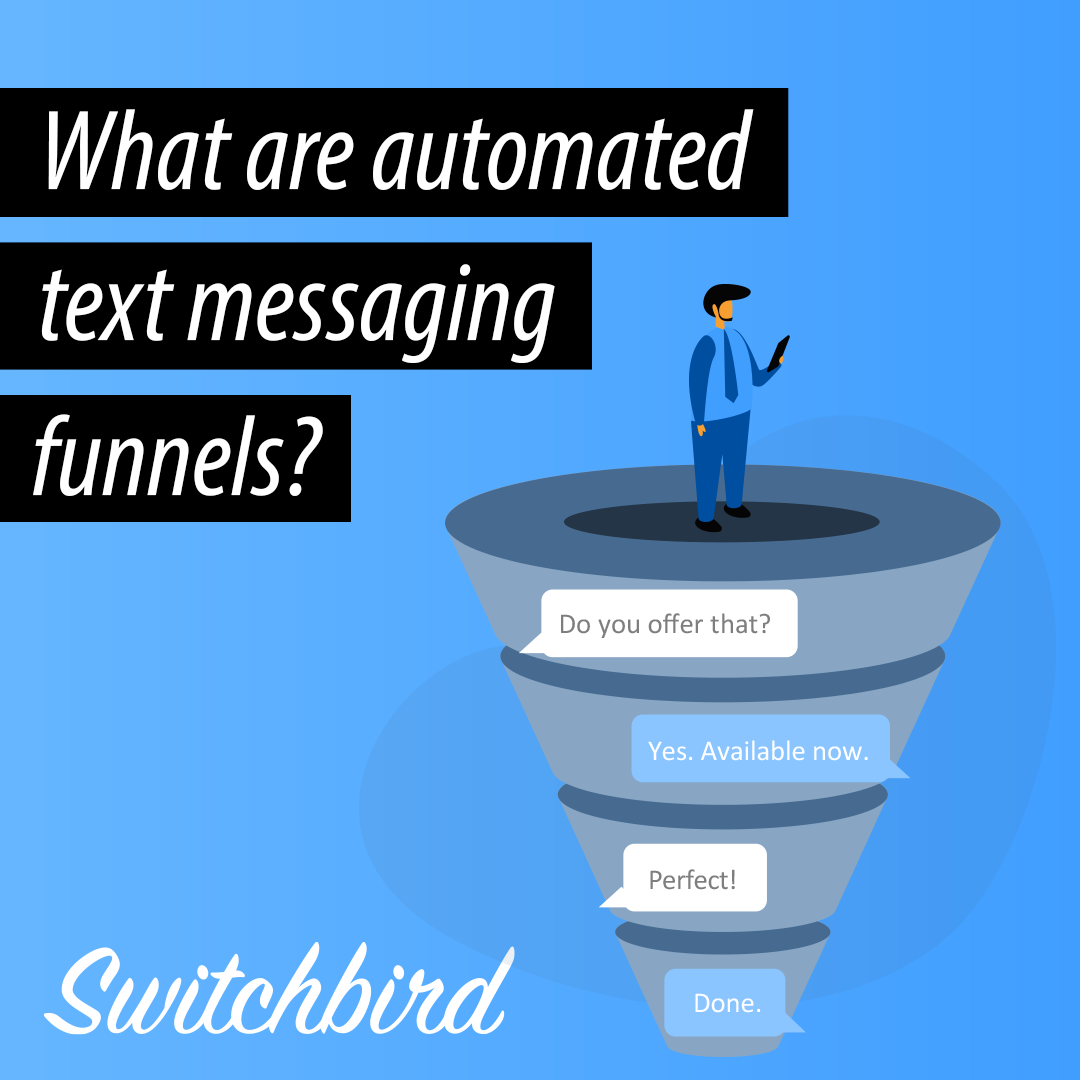 If you're a marketer, you probably already know the power of building high-performing sales funnels on the web. You've got irresistible calls-to-action. You've got killer landing pages. Maybe you've even got perfectly crafted email drips that follow-up and draw every last viable lead through your funnel.
Well, Switchbird lets you build those funnels in text messaging where you have the benefit of a medium that is hard to ignore, hard to abandon, and really tailor-made for what a funnel does: move your lead, prospect or customer stepwise through a series of "micro-commitments" that get them closer to a sale.
Why text message sales funnels?
Simply put, they're leak-proof. Text messages are direct, universal, preferred by consumers and read nearly 100% of the time. With text, you can take the core components of your sales funnel and distill them down to a scripted Q&A: e.g. first educate, then make an offer, then respond to objections, then introduce urgency, etc. Now you can test and tweak this script until you have a repeatable template for making a conversational sale, one "yes" at a time.
This formula works even if you have a complicated product, by the way. For example, you can text everyone who contacts your business with a follow-up question (once they opt in, of course): "If you haven't seen our new video on the benefits of Product X, you really should. Can I send it to you?" And then: "As you can see, we're far ahead of the competition. We have a webinar coming up that covers this. Reply WEBINAR and my robot will get you an invite if there are any seats left ;-)"
Text funnels are extremely versatile. With friendly and customizable messaging, these robots need never be robotic. We can simply identify what that contact is looking for and, if appropriate, walk them through a series of "micro-commitments" to qualify them, nurture them, or give them just enough that they're engaged and less likely to move on to a competitor.
Let's look at a few examples and quick case studies.
Text funnel examples
Switchbird gives you a ton of pre-built funnels for different use cases and industries, but let's consider two common examples encountered by our agency partners: 1) solving for a lead-gen client who isn't as responsive as we want him to be; and 2) utilizing text for your own agency's lead generation.
Text message funnel to capture and qualify leads
So let's say we're an agency tasked with driving leads for a new contractor client.
But maybe he's not picking up the phone or responding to those leads as quickly as we might need him to to close more deals.
No problem. We set up Switchbird to automatically text every new caller and get them into a text lead funnel.
First we're going to ask them a basic qualifying question up front which is simply, "Are you looking to have work done on your home?"
If they say "yes" we ask another qualifying question: "Well, what kind of work?"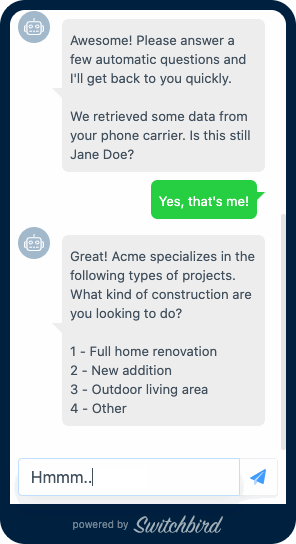 Now let's say our contractor client is a home remodeler who does full home renovations, new additions, that kind of thing. So we ask the customer what they're looking for but at the same time tell them what we specialize in. The subtext here is that if you're looking for someone to paint your closet, this contractor is probably not a good fit and let's not waste each other's time 😉
And when we find out what they're looking for, we can prioritize and nurture that lead accordingly. If we know they're looking for a full home renovation, you can imagine nurturing this lead with images of recent renovation projects or playing a customer testimonial from a recent project.
We already have the lead's name and details thanks to a reverse phone lookup, and once they confirm, they're through the funnel. We've got all the information we need. Our client will get an alert, or we can trigger another funnel, or we can trigger an event in our CRM, anything we want.
Not to mention that our contractor client has now been much more responsive to a solid lead than he would've been on his own.
Case study: Funnel to drive repeat business
I had the chance to witness one of our new agency partners running a small text funnel campaign with a local contractor in his second year adding a seasonal offering installing holiday light displays. The contractor sent outbound texts to 34 customers from the previous year, and the funnel included a series of branching questions about their past experience and needs for the upcoming season. A full 97% of those contacts (33 out of 34) completed the funnel, resulting in a full book of repeat business before the contractor even started marketing his service to new customers.
Text message funnel for keyword and lead magnet campaigns
Another example popular with our agency customers is a "lead magnet funnel." You can imagine that at your next speaking engagement or webinar or podcast guest appearance, you show up armed with your lead magnet content (maybe an e-book or some special training that you've put together) and you use it to draw out potential clients from the audience with a call-to-action like, "Hey, text EBOOK to my phone number and I'll get you that special training that I put together."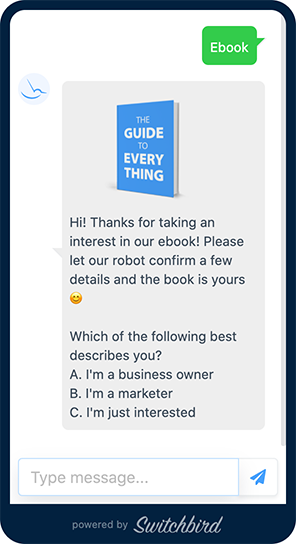 Now everybody's got their phone on them and this is a an "instant gratification" proposition so you may be surprised how effective it is at getting people to text you! And once they do, we've got them in a text funnel. We already have the most important information right out of the gate—their phone and likely their name and some other details from the reverse phone lookup.
But we can hold the lead magnet behind some questions here to learn exactly who we're dealing with, e.g. is it a business owner? A marketer? Etc. Then we can tailor the messaging to who they are and prioritize and segment them accordingly for follow-up.
We can also ask for additional contact details in the funnel like an email address so we can now incorporate them in a multi-channel re-marketing campaign. And just like a web funnel, we validate the data so we're sure the lead is giving us a real email before we give up the goods!
Once they're through the funnel, they get the payload and you get their data, which is of course what this transaction is all about. And now because we captured an email address we can trigger a drip campaign over in ActiveCampaign or Mailchimp or whatever.
Text funnel case study: Lead magnet
A marketing consultant booked himself a last-minute speaking gig when one of the pre-scheduled speakers canceled. He had only 30 minutes, so he delivered half of one of his 1-hour marketing presentations and made the other half available via Switchbird by welcoming the audience to text a keyword to him for it if they were interested. Thirty percent of the audience completed the keyword funnel within 90 minutes of the talk, messaging through an automated series of questions that gathered their name, business type and email address, earning the client 10 solid new leads and ultimately thousands of dollars in new business.
What else can you do with text funnels?
Clearly, there's a lot you can do with a text message funnel, and the medium is very efficient and effective at funneling. I hope these quick examples give you some ideas to implement— for yourself or for a client!