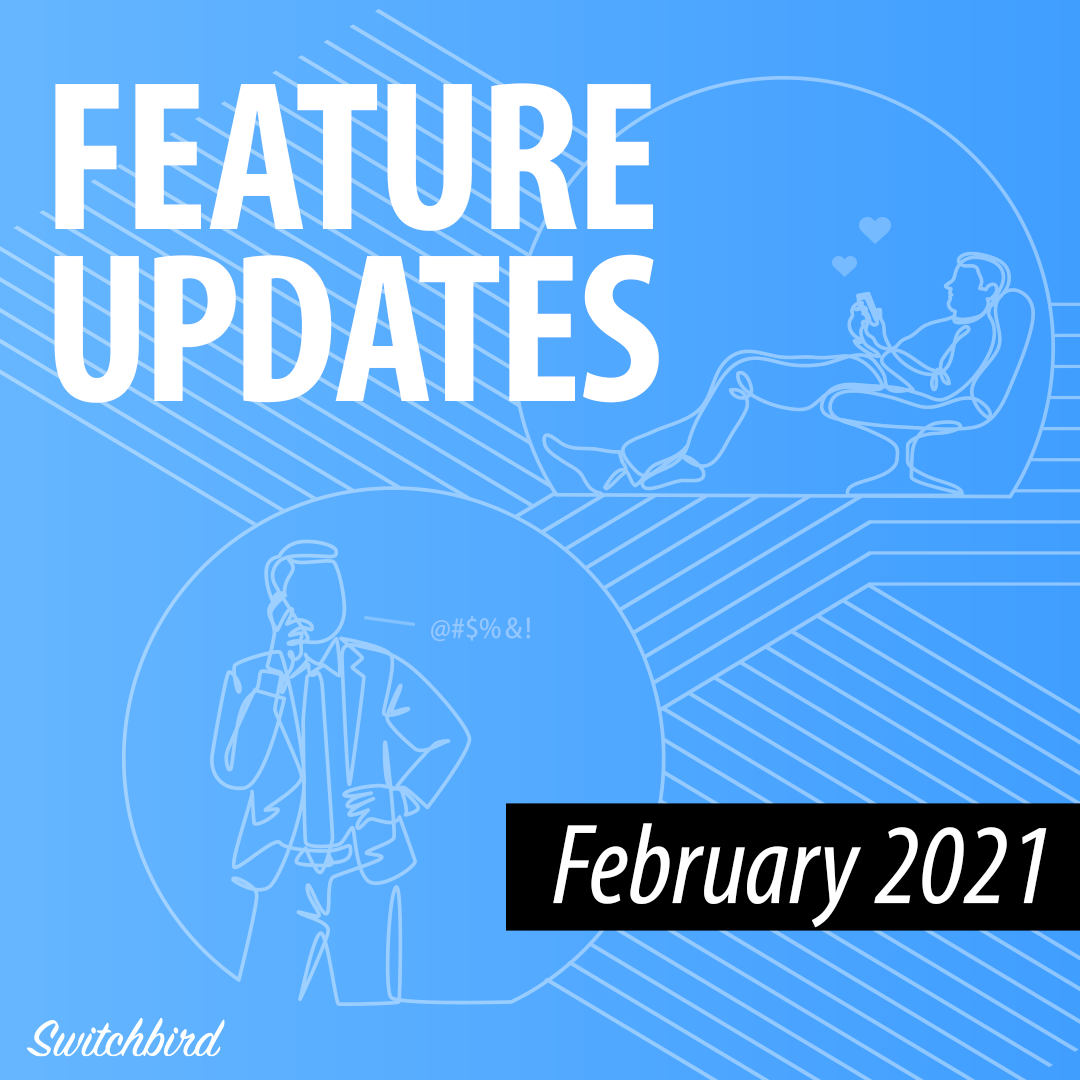 Lots to report this month from Switchbird HQ, so I'll skip the witty banter and get right down to business.
What's the word, Bird? Here's what's new:
Text message funnels by use case and industry. Funnels are not a new feature of Switchbird so much as a familiar way to present what text message automation can do for you and your clients. When you drive leads and customers into an automated text funnel, your business becomes responsive 24/7. You can automate providing answers to FAQs, handling new leads or customer service inquiries, delivering a lead magnet, collecting customer feedback, and more.
We've started building out a library of industry-specific use cases and templates for text funnels. The latest versions of these are also available in-app under Automations > Examples to be copied to your inbox, tweaked to your liking, and deployed in seconds.
I also run through the concept and a couple examples in a short demo video (in spite of the "help" I received from Bobbie, one of our rescue cats 😼❤️) Continuous improvements to the "Automations" UI and functionality. We know that our tools for building text message automations are becoming more and more important to you, and honestly our current UI isn't where it needs to be. But we are making steady improvements, which you may have noticed: a styling overhaul (in January) that makes it easier to callapse and reorder elements of your automated conversation logic; the addition of a "Selection" data type that makes it simpler to ask and handle multiple-choice-type questions, and the exposure of all data collected by your automations via our API and Zapier integration.
Appointments and reminders. Many of our end-users in home services, trades, auto sales, healthcare or professional services look to convert text leads not to a sale via text but to an appointment. Now right from the Conversations tab in Switchbird you can book an "appointment" which will do a couple of things. First, it will trigger a calendar invite to the customer via text so that it's more likely to end up on their calendar. And then we schedule two automated text reminders for the appointment that go out 24 hours before the appointment and one hour before the appointment, respectively.
You can export all of your appointments to CSV for reporting or uploading to another system. There's more we'll do here to integrate Switchbird with other calendaring systems, but here you've already got built-in text message appointment scheduling and reminders to convert leads to appointments and eliminate no-shows! Soon you'll be able to build out your own reminder and follow-up cadences, too 💪
In this video, I cover this feature and other developments: Voice capabilities. What happens when your agents, staff or whoever's manning your dashboard need to stop texting and call the customer? The options used to be: give them a business phone line or have them use their personal phone. But now there's a simpler solution. Switchbird is all about getting business conversations off of personal phones, after all. Simply click "Call" on any contact in Switchbird, enter your personal phone number, and we'll initiate a call from your Switchbird/Twilio number to the customer's number and bridge it invisibly to your personal phone. So now the customer simply gets a call from you on your Switchbird/Twilio number but connects to you on your personal phone. No additional services required.
CTIA/TCPA compliance features. You'll notice that when you click on a contact in your Switchbird dashboard, a big piece of real estate on their profile is devoted to identifying whether they're opted-in or not. And now you have tools to easily manage the opt-in or opt-out status of those those contacts or request an opt-in from them, which is part of our larger program to support easy/automated regulatory compliance.
A2P 10DLC registrations coming. Alphanumeric soup? Definitely. But important nonetheless. We're tracking changes in the industry, and the latest is that AT&T is officially sanctioning business texting from local phone numbers as of March 1, 2021, which is great. (This kind of messaging is called "Application to Person" texting over "10-Digit Long Codes", hence "A2P 10DLC.") But they will be expecting businesses to soon register their numbers to avoid filtering of their messages to AT&T customers in the future. We'll be adding registration features to Switchbird as soon as they become available from AT&T and our downstream providers 👍
Well, that does it for me for now. As always, please feel free to send your rants, raves, questions, concerns to me and I'll see what I can do!