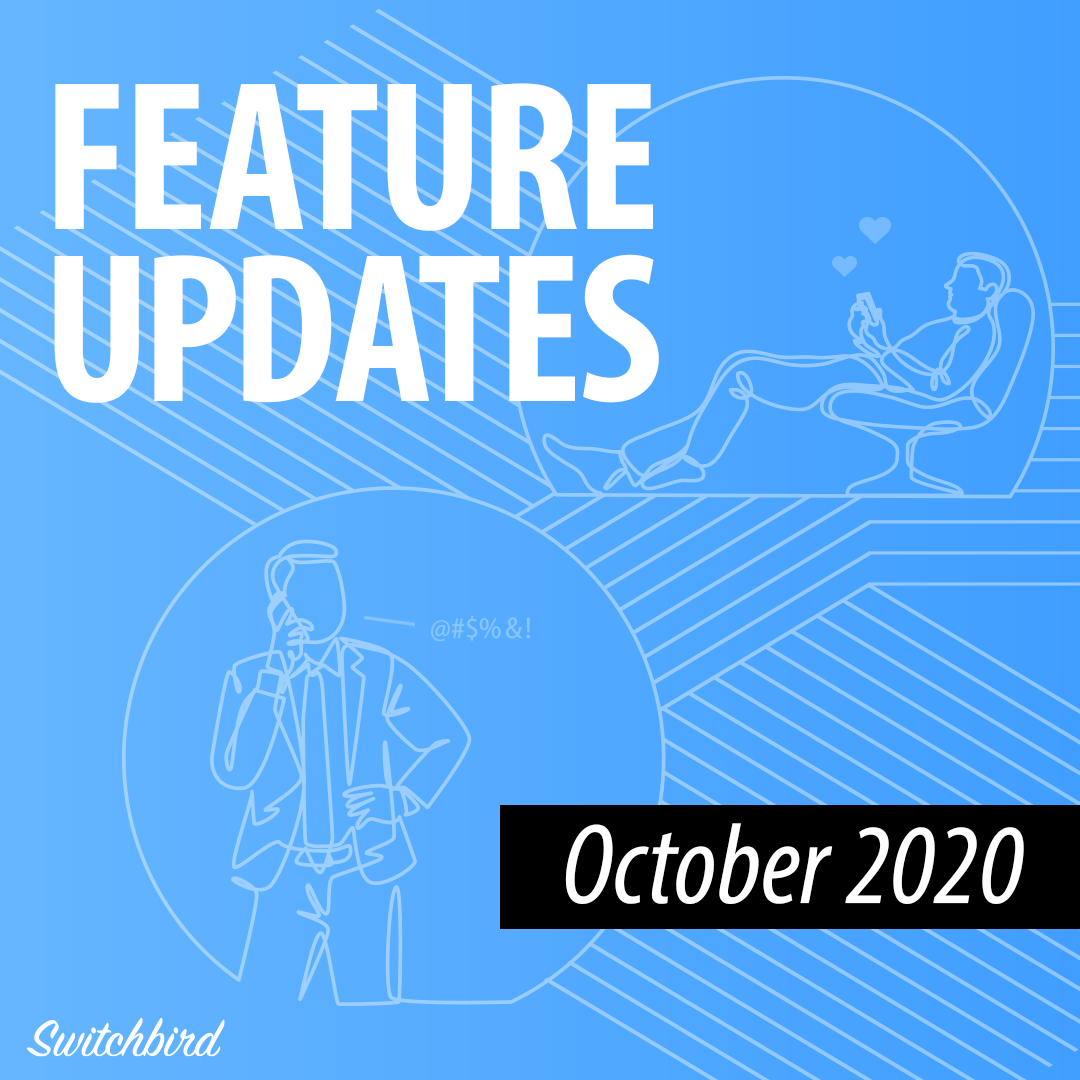 It's been another eventful month at Switchbird headquarters, and I'm excited to share more than a couple feature updates with you (below).
Also, this month I was a guest on John Jantsch's podcast and the Agency Ahead podcast by Traject, in case you're interested to hear a little more of the background behind Switchbird and our mission to build better agency software.
You also might like hearing John Jantsch offer me $100 to stand behind my claim that Switchbird addresses an "existential opportunity" for small businesses and put that language on our website. Check our website to see if I took the bet ;)
And now, without further ado, some developments that may interest you:
Broadcast messages. Mass texting gets a bad rap because too many businesses are doing it wrong, blasting out messages relevant to only a fraction of their audience and then being unavailable when someone replies.
At Switchbird, we're changing that. One-on-one messaging has been our primary focus, but broadcast messaging absolutely has a role to play in business texting: sometimes you simply need to get the same message out to a bunch of people. Well, now you can! From the Conversations tab just click the green word bubble to "Start a Conversation" and choose "Multiple Contacts".
We decided to couch mass messaging in the context of "conversations" rather than "campaigns" because we believe that's the right way to think about text messaging. You can target one or more "segments" from your contact list by choosing any labels (each is shown with a contact count), and then simply compose your message. Use dynamic placeholders to personalize a mass message to each one of your recipients!
Scheduled messages. When composing and sending a message via the Conversations tab, you can now choose to schedule it for a specific future date and time. The message will wait there in the thread under "Scheduled Messages" until it's sent or removed. (You can remove it any time before it's sent.) Scheduled messages are a great way to trigger nudges in your lead nurture campaigns, plan follow-up services, or remind a customer to make an appointment or write a review.
Web widget. If you haven't seen our web widget already, you can see it in action on switchbird.com: yes, we eat our own dog food here ;) Our slick, light-weight Javascript widget can be rebranded and deployed on a client's website in seconds. It looks and works just like popular web chat widgets, but it spawns a conversation by text message instead.
Not only is text a way more durable connection to the potential customer (try web chatting with someone who's opened another browser tab or bolted from your website!), this widget is an easy win to help your clients build their SMS contact list on autopilot 👍
Notifications settings. For those of you managing lots of client accounts, we heard you: You need some control over the notifications you receive from all those inboxes! Well, now you have total control. You can opt to receive or mute all notifications OR selectively receive notifications from specific inboxes. Find settings for individual users under User Access.
API Access and Zapier integration. Finally, this month we're starting to invite those of you who want access to our private Zapier integration to start using it. Today, the primary trigger/action available involves "New Contacts". Meaning: You can use this integration to pipe the contact information for every new contact in Switchbird over to your CRM, Google Sheet, wherever. In the Switchbird dashboard, admin users will now see an option to generate API keys for Zapier, also under User Access.
Whew! That's it for me this month. Till next time! 💪