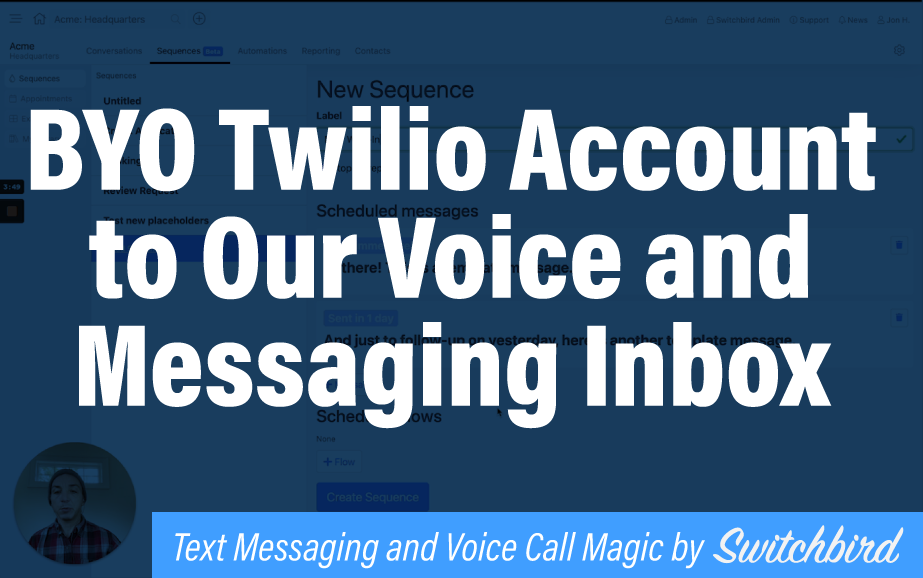 You're sold on the idea of a smart messaging inbox for your business, but you don't want to buy a new phone number or port your existing number to Switchbird?
Not to worry. You can connect existing Twilio accounts to Switchbird in a couple clicks. And as an agency or reseller, separate Twilio accounts for clients can create transparency and build trust by keeping the billing and management of client phone numbers and usage separate from your agency's.
TL;DR–Here is the walkthrough of how you do it: If I Use Twilio, Why Do I Need Switchbird?
Twilio is great. Many technologically-inclined business owners and marketers have dabbled in their offering and may own or use Twilio phone numbers already.
But now let's imagine you want to bring all of your voice and text conversations on your Twilio numbers into a nicely organized, searchable, filterable and shareable inbox.
Let's imagine you want your team to have ready access to all of your messaging content, too: pre-built and well-tested sales and nurture sequences, quick answers to frequently asked questions, custom-built messaging funnels and automations to qualify leads, gather feedback and sell.
Let's further imagine you want your Twilio numbers to record and transcribe calls, or track calls and texts from different channels, or auto-text back missed or after-hours calls.
In short, you want Switchbird. Because while Twilio is a powerful provider of the plumbing for these kinds of services, you need software to make them work and pull them all together.
Why Bring My Own Twilio Account to Switchbird
Switchbird transparently uses Twilio as our telephony provider. You don't need a Twilio account to use Switchbird: we happily buy Twilio phone numbers for you as needed and integrate them with our software, passing through to you just the wholesale cost of your usage. Zero markup.
That's a huge differentiator in a business rife with to many SaaS providers who operate as middlemen, wetting their beaks every time you make a call or send a message.
But there are scenarios where you nevertheless may want to bring your own Twilio account to Switchbird:
LEGACY: You may already have Twilio numbers in use thanks to prior attempts to setup some kind of business texting, automation or virtualization. Or maybe you're moving from another software that uses Twilio.

CONTROL: Maybe you're a brand or business owner who simply wants control. You want your numbers in your own Twilio account under your own credentials. You can port numbers in, port numbers out, buy new numbers from any available inventory, release numbers at your will, etc.

TRANSPARENCY: If you're an agency or reseller, you're already charging clients for software and services. Many of Switchbird's agency and reseller partners "bake in" the cost of Twilio usage. But if you have clients who may be racking up large or unknown usage charges for voice and SMS, you may be better served by giving that client their own Twilio account. This approach brings perfect transparency: You bill your clients for software and services, and your client gets a separate bill from Twilio for usage. Usage is simply a cost of doing business, and it can help a client with these optics, making it a separate matter that reaches them in a separate invoice from a separate company.
The Best of Both BYO and DFY
You don't need a Twilio Account to use Switchbird: we give you all the benefits with no overhead. Switchbird's pass-through pricing is just as if you built the software yourself on top of Twilio's infrastructure and your own Twilio account.
But there are scenarios in which you may want or need to bring your own Twilio account to Switchbird. And for those, we've got you covered 😊
If you have questions or would like to discuss your particular scenario, feel free to reach out to us. Just call, email or text!