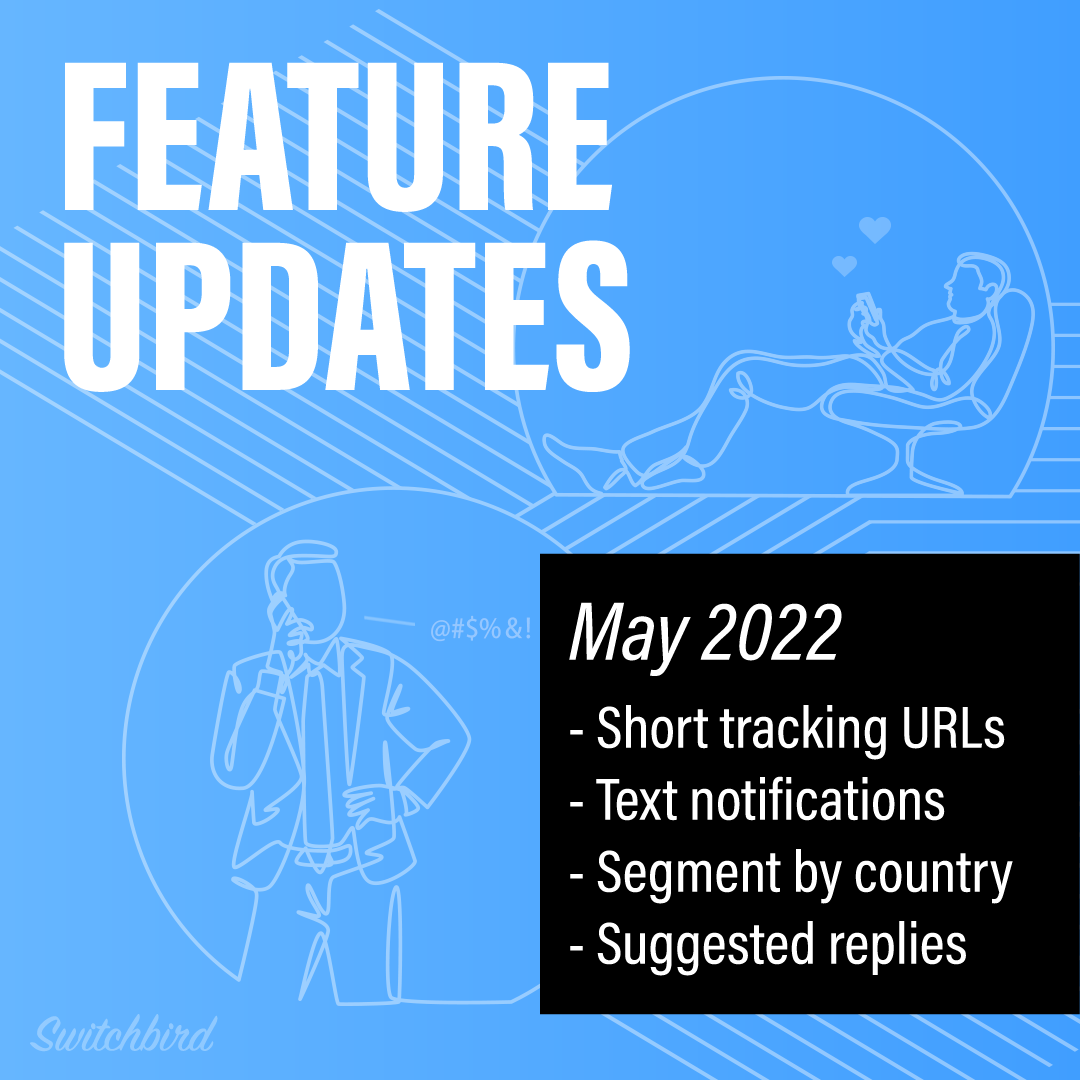 Hello friends! Whew, it's getting hot here in New Jersey. And I'm not just talking about the weather: the Switchbird kitchen is staffed overtime, and we're cranking out features and refinements to the product (some of which you may have noticed ;) as fast as we can.
Here are the highlights from the last month or two of new additions:
Messaging short URLs / link tracking. Now you can track clicks on your messages across every channel (SMS, Google Business Messages, etc.) by enabling "short URLs" on your inboxes.
Just toggle it on under Inbox Settings > Shorten URLs?. Once you do, we'll automatically swap out every URL in any message with a message- and recipient-specific short URL. This not only saves you precious character count (and therefore money), it unlocks awesome new engagement metrics for your messaging campaigns and activities.
Whether you're sending a one-off message, an automated message, a template or scheduled message, or a broadcast message to a whole bunch of people, you'll now be able to see if and when your contacts click on it–and take action accordingly.
This is a great way to identify contacts who are engaging with your messages but who might not identify themseves by replying. Here are the results of a quick test I did sending tracked links to a sample of my slog audience. Text notifications. I know, I know. A text messaging platform that doesn't send text notifications? This feature has been a long time coming. But now it's live. And it's glorious.
Our product team was not only able to implement text notifications with easy phone number setup and verification, but also make it completely private-label so that our resellers can send notifications from a dedicated number for their brand, using their own area code, and so on.
To turn on text notifications for yourself or a client in Switchbird, go to My Account and add your phone number. Once your number is confirmed, you'll have the option to toggle between email or SMS notifications.
If you private-label our platform and want to enable text notifications for your brand, reach out to Jon at Switchbird with your brand name and desired area code, and we'll set it up right quick 💪
New notification call-to-action. Speaking of notifications, you know how in the past, if you clicked on the link in a given notification, you were taken to the login page or the dashboard homescreen (if logged in)? Well, we've now refactored our notifications across all channels–email, browser and SMS–so that they all link you back to the specific conversation mentioned in the notification.
That means that now when you click on a notification, you're taken right to the inbox and thread that the notification is about. No extra clicking or scrolling 😅
Virtual phone system integration. For those of you using virtual phone systems like Grasshopper, you can really get the best of both worlds (their voice-handling magic plus our message-handling magic) by connecting the two. Here's a short demo I put together showing some options of how to add text-back-missed-calls functionality to Grasshopper, or add forward-to-voicemail functionality to Switchbird, etc. by using the two in tandem. Segment audience for broadcasts by country. For those of you with large or multi-national lists of contacts, sometimes you want to address them separately, such as for a promotion around a national holiday. No need to tag each contact to segment them for this purpose: Now Switchbird can smartly segment your contacts by country when sending out a broadcast message.
Suggested replies in messages and flows. As we continue our effort to bring our SMS features into parity with rich messaging (i.e. Google Business Messages, Facebook Messenger, etc.), we've added Suggestions to the content tools at your disposal when building any message under Content.
What for? As an example, let's say you have a bunch of keyword-triggered flows for MENU, HOURS, TRIAL, etc. If you now add those as "Suggestions" to a message in a flow, they'll be presented as a menu of options in any channel: clickable on rich messaging platforms and clearly laid out as reply options in SMS. Boom.
---
Whew! Okay, I'll stop there for now. We have some big things on the roadmap for this summer, and I can't wait to update you again soon. In the meantime, please get in touch if we can help with anything to address your business messaging needs :)