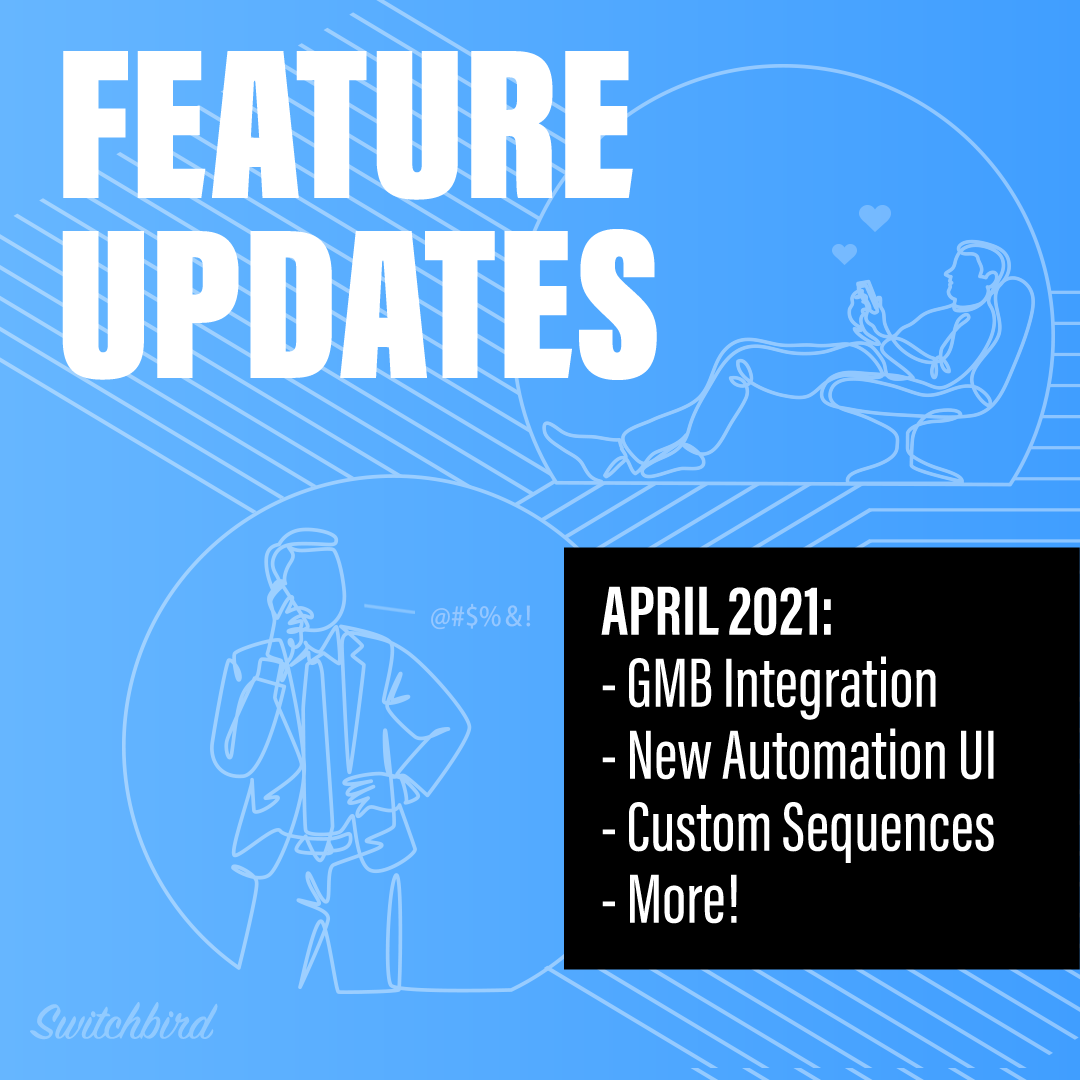 Switchbird is entering a new phase of its development. Gaining traction. Finding our most potent applications. Developing like crazy.
I believe some call it "beast mode." We have so much going on my head is spinning, but I wanted to pause this last night of the month to compose a quick update. And rest assured, the work we're doing is not just about adding features: it's about making a more focused, easy-to-use and powerful product. Here we go:
Recent updates
Google My Business messaging integration. We're evolving Switchbird into an omnichannel messaging platform. We still maintain the core goal of moving conversations from any channel to your preferred channel, typically text/SMS because of its value in terms of customer data, response rates, re-marketing, etc.
But we've integrated our first messaging partner, and that's Google. The product is Google Business Messages or GMB messaging, and this may well be relevant to a really significant category of marketing activity:  local SEO.
Our Google integration allows your clients not only to turn on GMB messaging and send/receive messages from their Switchbird inbox but also to apply Switchbird features to drive results in GMB messaging:  automated messaging funnels, reusable messaging sequences, appointment bookings and reminders, during- and after-hours rules, etc.
My prediction? Google will eventually use messaging (both adoption and performance) as a significant ranking factor in local search. Why? Websites, GMB content, reviews–all of them are highly manipulated now.
I have a series of articles in the works on this topic. For now, take a look at what we're doing and judge for yourself! Version 0.2.0 of the Switchbird automation syntax. We've learned a lot about what makes automated messaging funnels work. We also know that building complex interactions in our UI was a PITA. (Google "PITA meaning" if you've never seen the acronym before ;-)
Well, I'm optimistic that "v2" of our automation authoring tool and syntax is a huge step forward. Automations now consists of just 3 components: a greeting, a closing, and the "steps" in between. Steps consist of questions and prompts that present to the contact in the order and according to any conditions you set. The question types have been simplified to common language like "Yes or no" and "Multiple choice." And conditional logic such as triggered actions and replies are now attached to each step rather than being managed elsewhere.
Note that all new "from scratch" automations use the v2 syntax, but we did not force update existing automations. You can easily convert existing automations to v2 by clicking the "Convert" button in the automation header.

Conversions have been pretty well tested now, but please double-check your automations after converting and alert us if you run into any trouble.
Sequences. As promised, now you can build out your own reminder and follow-up cadences, called "Sequences," to accompany booked appointments or other events. Just create a new sequence and setup the messaging you need around the event: a reminder the day before, another reminder an hour before, a follow-up a day later to see how the event went, another to request a review, etc. Event-driven sequences are here.
On-demand sequences are next on the dev target list. These will likely take the place of templates, allowing you to queue up not only a single canned message, but drip campaigns, follow-ups and nudges to maximize the effectiveness of your messaging.
Precedence and use cases for keyword-driven automations. One of the behaviors we simplified inbox-wide is keyword-triggered automations. Now an automation–let's say a funnel to book a demo similar to ours at Switchbird–can be triggered ANYWHERE a contact replies "Demo" (but will not be triggered when the keyword is used in a richer context, like "Thanks for the great demo!")
This simple change means it's much easier to build, say, menus of options or specific funnels for specific purposes and keep them all organized in your inbox.
And speaking of "specific funnels for specific purposes," check this out: We have several agencies and consultants now using messaging funnels to draw tremendous value out of webinar, podcast and speaking appearances. One consultant alone this month spoke on a webinar to 270 attendees with a "Text KEYWORD to <number>" call-to-action. During the event, 107 attendees texted the keyword to enter his funnel, with 56 completing a 10+ question self-assessment and several now in talks to become clients!
BYOI: Bring Your Own Images Not that you couldn't do this already, but it wasn't easy. Now attaching one or more images to your messages in an automation is a LOT easier. Just drag-and-drop images into your messages–we'll host the images on our infrastructure and serve them via text/SMS or any other channel, and you can delete or replace them at any time.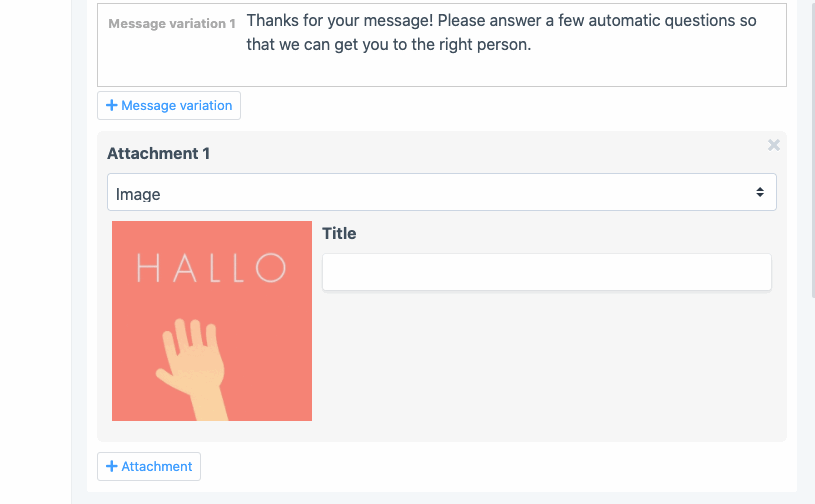 We've also enabled attachments to ANY message in your funnel, including questions/prompts, fallback messages, and triggered replies.
Consolidated inbox settings UI. A long-overdue organization of scattered settings for inboxes is now in place under the "gear" (Settings) icon at the top-right. You'll find your inbox Widgets, Calendar, and Integrations here, a burgeoning collection of direct third-party integrations. (Let us know if you need moar ;-)
A2P 10DLC registrations still coming. We're still tracking AT&T's new program for A2P ("Application to Person") texting over 10DLCs ("10-Digit Long Codes"). However, the timelines and criteria for businesses to register their numbers keep getting pushed back, along with the registration features of our downstream providers. This all just means that a percentage of your text traffic may be subject to AT&T's new registration requirements and small per-message surcharges in the future in exchange for better deliverability. We should know more this month.
Looking ahead On the product roadmap for the coming weeks? Sequences, a revamp of our chat widget, better reporting and more.
Well, that about does it for April. As always, please feel free to send your rants, raves, questions, concerns to me and I'll do what I can!